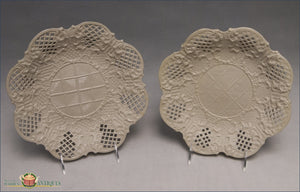 A Pair of Antique English eight lobbed pierced and Molded Saltglaze Fruit Plates, c1750
Regular price $1,200.00 Sale
A Pair of Antique English eight pierced lobbed fruit plates with foliate scrollwork and basketwork moulded in relief, in the center a molded medallion with a cable border containing a squared pattern and surrounded by eight small panels containing a trellis diaper filled with dots and stars and separated by scrolls and basketwork.  Staffordshire or Yorkshire, c1750 
Diameter: 10 1/2"
Condition:  No restoration
Literature:  Source: An exact example of this fruit plate can be found in "English Saltglazed Earthenware by Chas Luxmoore plate 32 and the block for the fruit plate can be found on Plate  77"
"...Shards were found in quantity on the Whieldon site in both saltglaze and creamware, the creamware shards being often decorated with coloured glazes." Source: Creamware and other English Pottery at Temple Newsam House, Leeds, pg. 33, see pl 61 for a similar example of these plates."