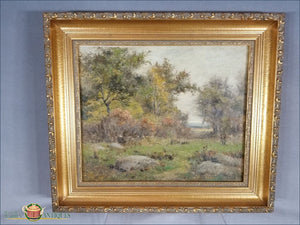 In The Monclair Valley by Albert Babb Insley SOLD
In The Monclair Valley by Albert Babb Insley (1842-1937)
Oil on Canvas - signed L/R  SOLD
Biography
Landscape and marine painter Albert Babb Insley was born in 1842, growing up in Jersey City, New Jersey. He was active early in the arts. At age fourteen in 1856, he received his first major painting commission of the Llewellyn Park Estate of D.C. Otis; and the same year he left school to become an apprentice photographer under his father, Henry Earle Insley, who was one of the earliest pioneer photographers in America. In 1860, at age 18, Insley made his first of many painting trips to the Green and White Mountains of Vermont and New Hampshire and to the Shawangunk Mountains of New York. 

When only twenty-five, Insley began exhibiting on a regular basis at the National Academy of Design in New York City, having exhibited 36 times from 1862 to 1898. He continued his artistic studies, even as an exhibiting artist, with the well-known Jasper Cropsey in 1864 and 1865. By the early 1860s, he was an art instructor with Henry L. Hillyer at New York University, Waverly Place, New York City. He was also a long-time exhibitor from 1869 to 1891 at the Brooklyn Art Association. 

In New York City, he lived and worked at the Tenth Street Studio Building for 48 years. He also took regular painting trips north of the city and across the Hudson River in New Jersey, as well as in the New England states. He also painted views of New York harbor, Staten Island and Bayonne, New Jersey. 

In the early 1880s, Insley's work reflected the influence of the Barbizon School of France. Insley took an art class on glazing techniques with George Inness Sr. who influenced him to become looser and more expressive. During the summers of 1864 and 1865, he studied landscape painting with Jasper Francis Cropsey at his home on Greenwood Lake, which caused him to lighten his palette. 

The long-lived artist died in Nyack, New York in 1937 at age 95. His memberships included the Boston Arts Club, Brooklyn Art Association, Nanuet Painters and Sculptors Guild, National Academy of Design, Pennsylvania Academy of the Fine Arts, and the Salmagundi Club. 

His collections include the Archives of American Art, Washington, D.C.; Cragsmoor Free Library, New York; Delaware Art Museum, Wilmington; Harding Museum, Chicago; Jersey City Museum, New Jersey; Preservation Society, Newport, Rhode Island; and the Rockland Historical Society, New York.

Source: 
Michael David Zellman, "300 Years of American Art"
Peter Falk, "Who Was Who in American Art"