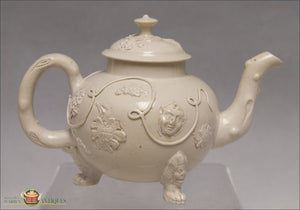 An Antique English Saltglaze Stoneware Teapot with cover with applied relief, c1750
Regular price $3,200.00 Sale
English salt-glaze stoneware teapot with applied relief together with a man's face in the applied relief. The spout has a crabstock handle and spout on three mask and paw feet, c. 1750 Staffordshire.
Dimensions: 4 &1/2"H x 6"W
Condition:  Minor restoration to tip of spout
Background and Literature: "...the stems were made by applying thin, hand extruded strips of clay while the leaves and fruit were mold-made.  Later, relief patterns were made by a process called 'sprigging': instead of being stamped on the surface, the reliefs were made in separate plaster-of-Paris molds, removed from the molds, and then by means of a slip (called "luting" or "vineing") were applied to the vessel." 
Source: "The Burnap Collection of English Pottery by Russ Taggart"