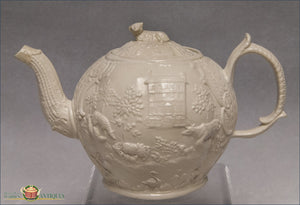 An Antique English Saltglaze Landskip Teapot, c1750
Regular price $3,500.00 Sale
An Antique English saltglaze Landskip teapot. Globular form decorated with a building, landscape scene along with animals and a cow knop; and having a molded spout and handle.  c1750.
Dimensions:  6" H; 7 1/2" W 
Condition: lid; tip of spout and small body crack 
An example of the block mold used to make this tea pot, can be found in Reilly's "Wedgwood" Volume One, page 171, figure 137.  It is attributed to Greatbatch though no shards of this type were ever found on the site of his pottery.
An example of this tea pot, can be found in Reilly's "Wedgwood", Volume One, page 176, figure 152.  It is attributed to Wedgwood, c1760.
Literature:  The block technique was used to make this tea pot, one of the three methods used to mold saltglaze.  The block for this tea pot rests at the Wedwood works Museum at Etruria.  It is pictured in "English Saltglazed Earthenware by Chas Luxmoore, Plate 65."
While some authors have attributed this form to William Greatbatch, here is what this author asks you to consider "...None of the numerous examples of this type of teapot which survive have any feature which suggests manufacture by Greatbatch; the handles and spouts used are of types not recovered from the Greatbatch site and equally important, not one sherd of this type was found at the site. 
By contrast, sherds of teapots, sauce boats and cream boats of this pattern have been found at Thomas Whieldon's factory at Fenton Vivian, where both biscuit creamware and white salt-glazed stoneware sherds were found, the site of Humphrey Palmer's Church Works, in Hanley and a nearby group of wasters from Union Street, which cannot yet be associated with any manufacturer.  These latter two sites produced sherds of white salt glazed stoneware and under-glaze coloured creamwares...
Indeed there were no moulded wares from the Greatbatch site which even vaguely resembles a landscape of any sort." Source:  "William Greatbatch: A Staffordshire Potter" by David Barker